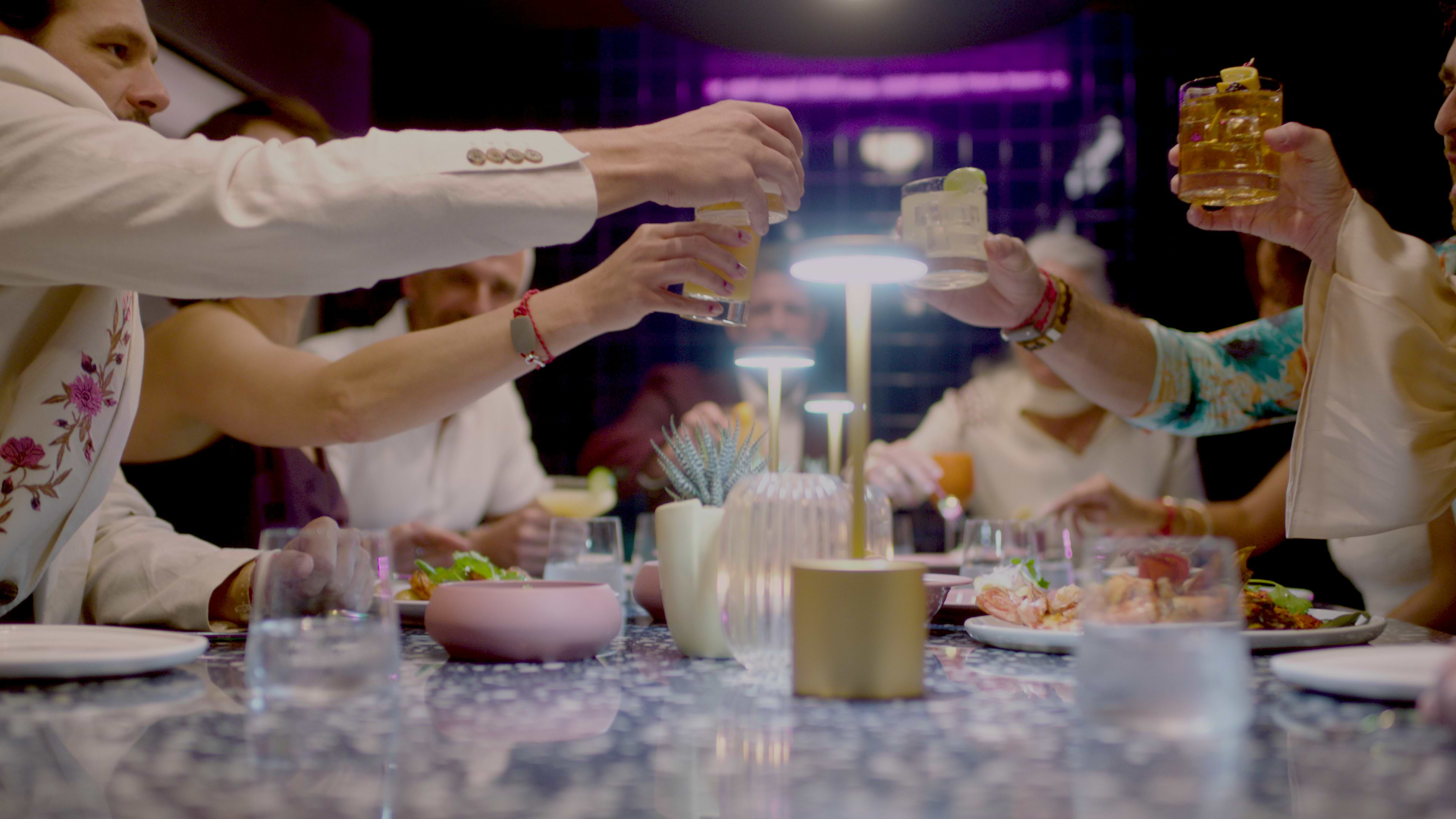 YOU ASKED. WE ANSWERED.
Busting myths about our lady ships.
Pick up where you left off…
Your vacation awaits — don't let these voyages sail away.
You asked. Our Sailors answered.
From luxurious inclusions to the best ways to relax on board, see what our Sailors have to say about sailing aboard our exclusively adult voyages.
What is the age mix onboard?
No matter your age, or how you like to unwind, our exclusive adult ships — and all the places we go — suit Sailors of every age (unless you're under 18, of course). But don't take it from us, let our Sailors from all ages tell you about their experiences:

"It's a really mixed group of ages. I saw all shapes, sizes and ages. There was everything from 20s to 80s. What I was really impressed with is how everybody was thoroughly enjoying themselves."
Debbie H.
60, New Jersey

"The thing I love about Virgin is how no matter who you are, you're going to love it. Richard's Branson had his 72nd birthday onboard. I saw a family celebrating a 21st."
Lance B.
43, Florida

"I was onboard for my 20th anniversary and felt completely relaxed and welcome. Age is just a number has never been more true. They are all about enjoying life no matter what your number is."
Olivia O.
52, Florida
What is the dining experience like aboard Virgin Voyages?
From truffle gnocchi with affogato for dessert at Extra Virgin and perfectly-zested hamachi crudo at The Wake, to meat-grilling accouterments at our first-to-sea Korean BBQ spot, Gunbae — our 20+ unique eateries with menus designed by a Michelin-starred chef collective use fresh ingredients to create made-to-order (and always-included) food. Never stuffy and always welcoming, no matter your craving or your vibe, there's a restaurant on board that will suit you. But we'll let our Sailors tell you more:
"I've been on around 70 cruises on over 15 different cruise lines, and the food on Virgin is probably my favorite out of all of them. From The Wake (steak and seafood) to Extra Virgin (Italian) to the Galley, I've never had a bad meal onboard. For lunch, I highly recommend eating at The Dock, one of my favorite parts of the ship. Another small detail that I love is that you can get 24/7 breakfast in the Galley. If you want an omelet at 10 pm, you can get an omelet at 10 pm."
Cruise Fever "7 reasons to take a cruise on Virgin Voyages"
What does Always Included Luxury mean?
With luxurious inclusions on every single one of our cruises, you'll always get exceptional value when voyaging with us. It's something we've coined Always Included Luxury — which means that on every single cruise, we include dining at our 20+ eateries, entertainment, gratuities, wifi, unlimited fitness classes, still and sparkling water in your voyage fare. See what our Sailors have to say about their choice between the two:

"My husband and I would choose a cruise with Virgin every single time. Everything they include means you aren't constantly reaching into your pocket or worried about your bill at the end. Compared to hotels right now, cruising is the best value."
Lesley C.
49, Florida

"I like to call sailing with Virgin 'Much More Inclusive'. I feel like some resorts trick you with inclusions but there are caveats. Same as some other cruise lines. Whereas Virgin is upfront. The dining is the best at sea. The crew is second to none."
Mim M.
72, Nevada
What did you enjoy the most?
We offer a casually luxurious premium sailing experience. With no dress codes, no nickel and diming, and so much to do, see, and be a part of aboard our exclusively adult ships — we could tell you exactly what you'll enjoy the most, but instead, we think the Sailors who have done it all can tell you best:

"I was blown away by the service.They call us RockStars, but their crew treat everyone so well. Every detail was handled. I wish I had this kind of service everywhere. Booked another two already."
Andy G.
59, Georgia

"I've been on dozens of cruisers with other companies, but now I'm a Virgin fan for life. The food is outstanding. The best I've had on a cruise."
Margie S.
67, Florida
Sea-Blazer

"There are cruises and there are voyages. I get what the difference is now. Virgin spoiled me and my wife on our anniversary. My friends asked me what made it great? I just told them it was everything."
Ian F.
63, Sydney, AUS

What does "Exclusively Adult" mean?
We've swapped kids menus for Michelin star chef curated menus, because while children are one of life's great joys, we believe absence makes the heart grow fonder. That's why, despite the fact that our ships are a playground for your inner child, we've chosen to curate a casually luxurious adults-only cruise experience — which means you have to be 18 and up to sail with us. While
we can tell you all about
what that means for our onboard experiences, let our Sailors give you their intel as well.
How much of a party ship is it?
While we love an epic party, our seafaring getaways are incredibly relaxing and serene experiences as well — curated purposefully for you to have the kind of vacation that suits your vibe. But we'll let our Sailors tell you more:

"It's up to you. I was out exploring all day on the Mediterranean cruise then at night would be in bed early so I was ready for the next day. The room and bed are really comfortable so I woke up ready to go again. I'm sailing in the Caribbean next."
Chris M
30, Florida

"A very relaxing trip for me. Spa in the mornings. Daybed and a cocktail at the Dock area in the afternoons. One night I fell asleep in my hammock to the sound of the ocean. Take me back now please."
Taryn A
64, Florida

"I've been on lots of cruises, and this was my favorite by far. The ship is stunning. The crew are second to none. I love their attitude-not-age approach. As for the parties, yes, they have epic ones. But if you just want to have a break, this ship offers it all."
Michael J
33, New York
Vacation time is limited, so we know how important it is to make sure you choose the right experience for your time off. Fortunately, we've been lucky to be featured in a number of publications who wrote about their own experiences and opinions about being on board. Have a look at the articles below and get an even better idea of what it's like to sail with us:
For more Frequently Asked Questions, click
here
.
Always Included Luxury
We've taken care of all the details - so all you have to do is kick back and have the relaxing vacation you deserve. Everything below is included.
"Being a ridiculously fussy eater, I've shied away from tasting menu-style eateries for years, despite many being on my 'hit list'. She will shy away no more I say! We ate at @VirginVoyages Test Kitchen where "Food-meets Science" 🍽 🧪 WOW! What an experience. #cruise"