Featuring all-new ports in bucket-list destinations, new tasty food concepts and new entertainment.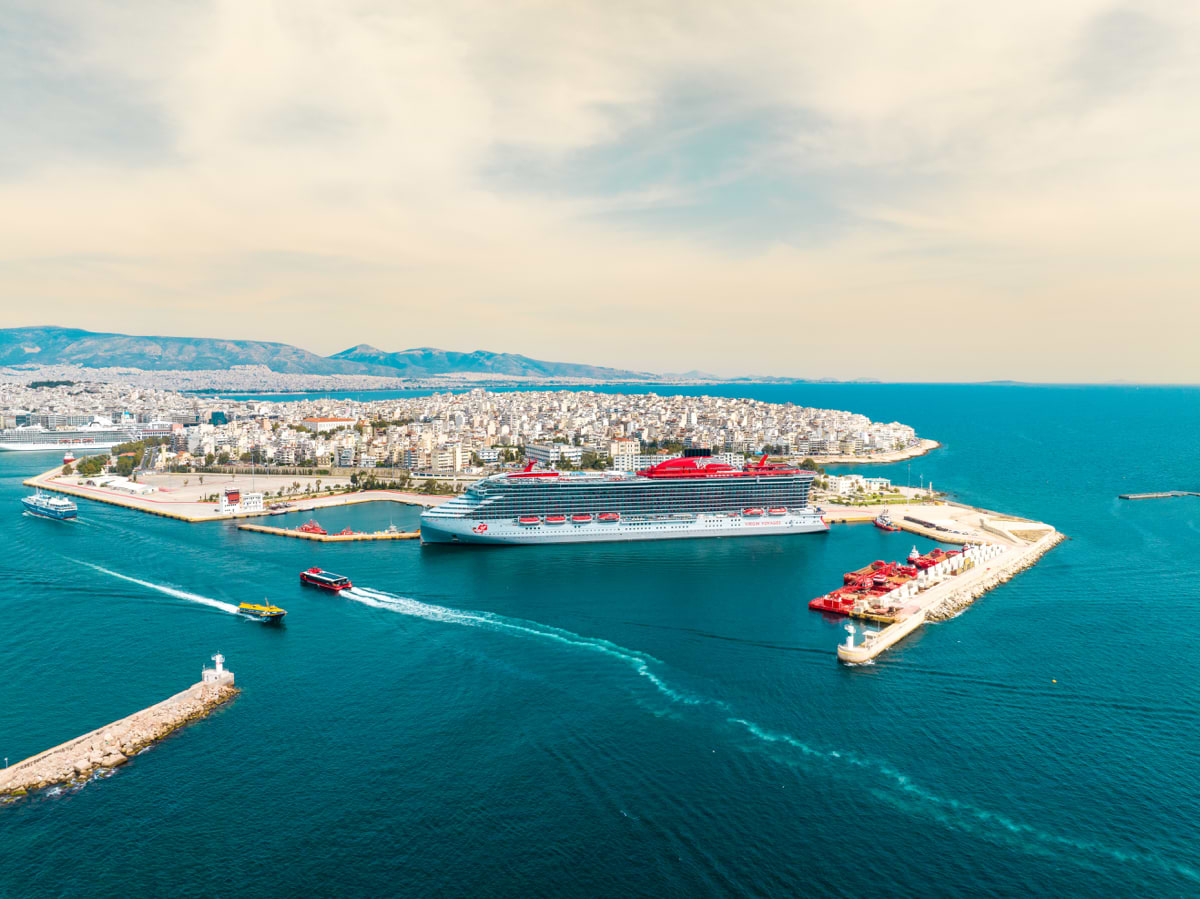 MIAMI, FL – May 10, 2023 – As the European summer season starts up, the much-anticipated debut of Virgin Voyages' third ship, Resilient Lady, is here. As the newest Lady Ship to join the award-winning fleet, Richard Branson's cruise travel brand is expanding its list of irresistible vacation destinations with Resilient Lady's inaugural summer season from its new homeport in Athens, Greece. Designed exclusively for travelers 18+, Virgin Voyages' ships were inspired by superyacht design, bringing glamour to the high seas with spaces designed by world-renowned architects and designers, including Tom Dixon and Concerte Amsterdam. With menus curated by Michelin-starred chefs, the experience has quickly become a foodies paradise, featuring culinary influences from these new regions in the Med.
Resilient Lady makes her debut on May 14, 2023. The seven-night MerMaiden voyage (May 14-21) features the "Greek Island Glow" itinerary, which departs from Athens and includes stops in Santorini, Rhodes, Bodrum and an overnight in Mykonos before returning to Athens. Also debuting this season is the "Adriatic Sea & Greek Gems" itinerary, visiting the most incredible spots in the Adriatic Sea by way of Croatia's coastline, Greece's glamorous islands, and a bay in the Balkans. This itinerary also includes a late-night stay in Dubrovnik, giving Sailors plenty of time to explore the scenic city during the day and take part in the vibrant nightlife.
"Virgin Voyages' delivers an amazing experience and has been recognized by hundreds of thousands of happy Sailors with the awards we've won for our service, food, design, entertainment and more," said Sir Richard Branson. "We have shown the world all that we have to offer when it comes to having the holiday of your dreams, and I can't wait to show off our lovely new Resilient Lady in one of the most magical places in the world as she sails around the Greek Isles, Croatia, Turkey and more."
"I'm thrilled this day is finally here and that Resilient Lady has officially joined our award-winning fleet," said Tom McAlpin, CEO of Virgin Voyages. "Since our launch just a few years ago, we have received the travel industry's top awards and have experienced a very high rate of return with up to 40% of our Sailors rebooking their next cruise while they're still on-board with us. I know people are going to love voyaging with Resilient Lady as much as they have with Scarlet and Valiant Lady, and I look forward to sharing this five-star experience with even more Sailors this summer."
In addition to exploring new destinations, together with its Creative Collective of the world's best producers, including Randy Weiner (of Sleep No More and Queen of the Night), House of Yes and MISCHIEF, Resilient Lady will also debut incredible new entertainment, including five new shows, two all new soirées in The Manor, exclusive on-board parties, more live music acts and a festival stage of rotating performances.
Alongside entertainment, Virgin Voyages is also unveiling new and tasty food and beverage offerings. Razzle Dazzle by Night is a menu curated in partnership with Chef Eric Haugen. To celebrate Resilient Lady's launch, the brand is introducing "Opa Hour," an ode to the Greek culinary tradition. Held in the Dock and Dock House on all three ships, Opa Hour will feature a Greek-inspired food and beverage menu in addition to the usual offerings.
Since the brand's launch in 2021, Virgin Voyages has earned a number of top awards in the consumer travel and cruise industry categories. Most recently, the brand took home all five awards in its category for this year's Cruisers' Choice Awards with Cruise Critic. This includes Best Overall Cruise Line, Best Dining, Best Cabins, Best Service and Best Value for Money. On top of this awards sweep, Virgin Voyages was recently named on Condé Nast Traveler's 2023 Hot List, a curated list of the world's best new cruises.
Staying close to the brand's commitment to creating an Epic Sea Change for All, Virgin Voyages has partnered with two non-profit organizations: All for Blue and Urban Act. These partnerships include the brand's participation in underwater and community clean-ups along with the composition of murals in Athens and in the Greek Islands, which are aimed at expressing the importance of sustainable tourism and preserving our oceans.
After its inaugural season in Greece, Resilient Lady will set off on a trans-continental voyage, arriving at Station Pier in Port Melbourne, Victoria, setting sail through Australia and New Zealand from Dec. 11, 2023 - March 27, 2024.
For more information on Virgin Voyages, the five-star sailing experience or its amazing destinations and offers, visit www.VirginVoyages.com.
Link: Resilient Lady in Athens Photos
Credit: Alex Anderson / Maritime Filming UK
About Virgin Voyages
Set Sail the Virgin Way with Virgin Voyages, the irresistible travel brand founded by Sir Richard Branson. Delivering epic vacations at sea, Virgin Voyages launched at the end of 2021. The brand's four Lady Ships – inspired by 50+ years of Virgin history -- include Scarlet Lady, Valiant Lady, Resilient Lady and Brilliant Lady. Designed for discerning travelers, Virgin Voyages offers relaxing, exclusively adult (18+) sailings. Working with a Creative Collective of the world's most sought-after designers, performance artists and architects, Virgin Voyages delivers an enchanting boutique hotel at sea with fresh, elevated spaces that strike the perfect balance of nautical chic and glamour. Currently departing from the sun-soaked cities of Miami and Barcelona – and soon to include Athens, San Juan and Melbourne – the fleet offers itineraries to more than 100 awe-inspiring destinations across four continents. Virgin Sailors are spoiled for choice with 20 eateries offering Michelin-star culinary experiences all included, a festival-like line-up of entertainment, stylish and comfortable cabins, Rockstar Quarters, authentic and locally inspired shore excursions, and a dose of Vitamin Sea with well-being naturally intertwined throughout the experience. Promising to Create an Epic Sea Change for All, Virgin Voyages also puts sustainability front and center.